http://www.radiospirits.com/detailsv2.asp?mbprodid=57018&sid=MzYzMDE5Mjk6MTAvNS8yMDE1IDI6MTc6MTcgQU0=&Svr=.62&l=1&source=&scode=T01CY100
20% off coupon code this month is T07CA009
I have put the 9 uncirculated episodes in
Bold
below!
If the next set follows in chronological order it will have 15 of it's 16 episodes being uncirculated!
The Fitch Bandwagon With Phil Harris & Alice Faye: A Song and a Smile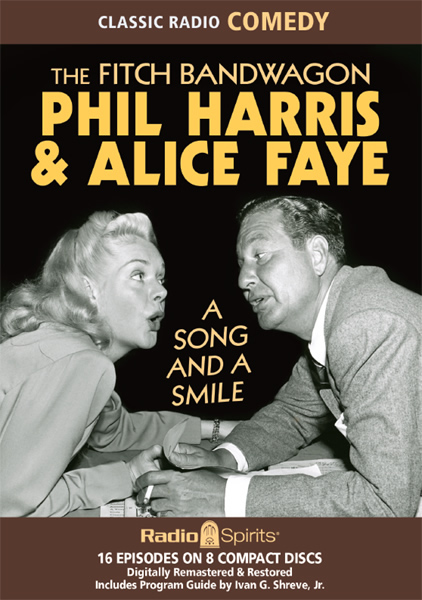 "Laugh a while…let a song be your style…" and enjoy radio's most outrageous comedy couple: Phil Harris and Alice Faye. They are off to a raucous start in these classic early episodes, co-starring Elliott Lewis as the unforgettable Frankie Remley!
Stunts, gags, and over the top shenanigans are enabled by the diabolical delivery boy Julius Abbruzio (played by the delightful Walter Tetley). Cameo appearances are provided by Gale Gordon, Frank Nelson, and Mel Blanc -- and the dashing Robert Taylor decides to fill in for an absent Phil…and sings "That's What I Like About the South!"
Includes rare episodes, and a Program Guide by Ivan G. Shreve, Jr.
Episodes Include: Selling The House 10-19-47; A Day With Phil Harris 10-26-47; Phil's Band At High School 11-02-47;
7th Anniversary Gift 11-09-47; Phil Builds a Playroom 11-16-47
; Phil Sees the Doctor 11-23-47; Phil's Hobby 11-30-47; A Dog for the Kids 12-07-47;
Buying a Gift for Mr. Fitch 12-14-47
; Annual Christmas Show 12-21-47;
Mr. Fitch Comes to Dinner 12-28-47; Phil's Birthday 01-04-48; Phil Looks for a Guest Host 01-11-48; Robert Taylor Fills In for Phil 01-18-48; Phil Thinks He's Being Replaced 01-25-48; Phil Doesn't Want Willie to Move In 02-01-48