The new set is out here is the link to the set
http://www.radiospirits.com/detailsv2.asp?mbprodid=56134&sid=MjQzOTQxNDU6MTAvMTEvMjAxMiAxMToyMTo0NiBQTQ==&Svr=.62&l=1&source=&scode=G10CY100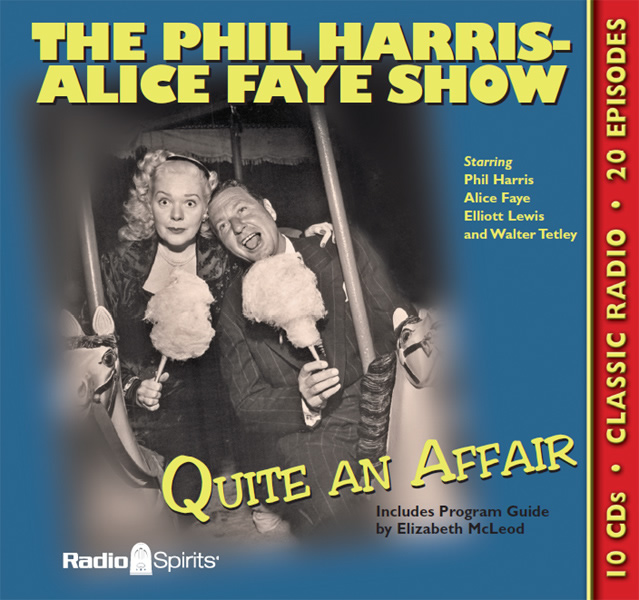 Extreme characterizations, extreme scripts, extremely funny!
The Phil Harris-Alice Faye Show set the pace for all-out comedy as the Golden Age of Radio moved into its latter days, with Jack Benny's wavy-haired bandleader, his long-suffering movie-star wife, and his no-account guitar-playing buddy caught up in outlandish predicaments every week. Aided and abetted by some of radio's outstanding character actors, Phil and Alice's adventures will always leave you laughing!
Is Phil the last of the Mohicans? Is Elliott going to the Orient? Is Willie getting married? Is Alice able to keep up with their shenanigans? Find out in 20 digitally restored and remastered episodes, many of them available for the first time anywhere!
Includes a program guide by radio historian Elizabeth McLeod.
EPISODES INCLUDE: Alice's Day (Rehearsal) 01-04-53; The Kitchen Sink (Rehearsal) 01-11-53; The $800 Kiss 01-18-53; Promoting the Product 01-25-53; Phil Fasthorse and the Louis & Clark Expedition 02-08-53; Phil, The Last of the Mohicans? 02-15-53; Free College Education for Indians 02-22-53; The 4D Camera 03-01-53; The Mink Cape Mix-Up 03-08-53; The Gang Leader's Phone Number 03-15-53; Who Will Replace Phil? 03-22-53; Saving His Job with Martin & Lewis 03-29-53; Coloring Easter Eggs Phil's Way 04-05-53; The Little Mother's Helpers Club 04-12-53; Willie and the Fortune Hunter 04-19-53; A Trip to Tijuana 04-26-53; Elliott's Free Trip to the Orient 05-03-53; Mother's Day Gift Trouble 05-10-53; A Pool for the Kids 05-17-53; The Harris' Visit the Dentist 05-24-53