John L. C. Sivoney / Crazy Guggenheim
---
[ Follow Ups ] [ Post Followup ] [ International Jack Benny Fan Club ]
---
Posted ByRadio Fan on May 21, 2002 at 14:31:18:
In Reply to: Re: John L. C. Sivoney posted byGerry O. on November 05, 2001 at 21:08:07: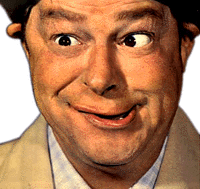 In a biographical interview, Jackie Gleason claimed that the character, "Crazy Guggenheim", was based on a real person that lived in Gleason's childhood neighborhood in Brooklyn (New York, USA), that everyone called "Puke".
Also, in response to an earlier comment, apparently when Mr. Fontaine did the "John L.C. Sivoney" character on the Jack Benny radio program, he DID effect the same ridiculous facial expression that he did on the Gleason TV show, for many times, you'll hear Benny say, while trying to stifle a laugh, "I can't even LOOK at him!"


---
---